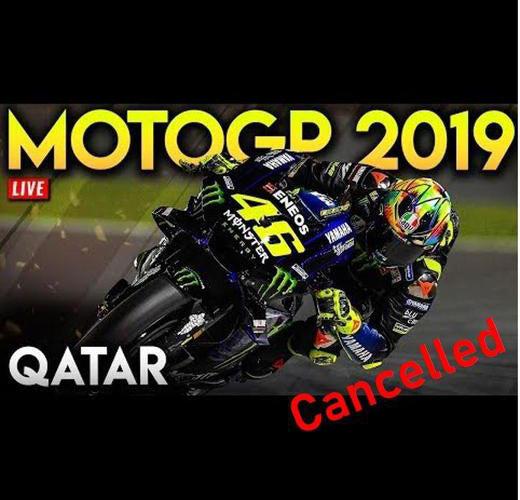 MotoGP race Cancelled in Qatar and Thailand due to Travel restrictions
Posted by Jim Koorampoikayil


MotoGP, the world's most anticipated motorcycle racing series, has been officially reported as canceled the season-opening event in Qatar that was set for March 8 and postponed the second race on the calendar in Thailand indefinitely due to corona-related travel restrictions, though the Moto2 and Moto3 races will go on as planned.

It was always expected since two-three weeks ago about the possibility of the MotoGP schedule being interrupted by the virus. I had speculated that travel restrictions from Thailand to the United States could be the problem. Instead, the cancellation has been triggered by the swift blowout of the virus in Italy. All travelers from Italy to Qatar needs to spend two weeks in quarantine, and with most of the riders and team members from Italy who would not be able to compete, MotoGP organizer Dorna and the FIM decided to cancel the MotoGP race.

Moto2 and Moto3 teams are not affected because they were already in Qatar for the final preseason test when the travel restrictions were put in place. 

Also there is an update that the Thailand round of MotoGP that was planned for March 22, 2020 has been now postponed or possibly canceled at the request of the Thailand government. That means the Red Bull Grand Prix of the Americas at Circuit of the Americas in Texas on April 5 will be the opening round — if it happens.

As of Saturday, the World Health Organization (WHO) reported 888 cases in Italy of COVID-19, the disease caused by the virus that originated in China, and 21 deaths. Italy has more cases than any other countries except China and South Korea.

I can be sure that the greatest potential for interruption to the season is the nuisance of travel restrictions. The MotoGP season unwraps with four extensive races planned in the 4 major geographical location of the world— Qatar, Thailand, the United States and Argentina — before settling in for the heart of its schedule in Europe. At this point, it's difficult to predict whether other races will be canceled, though there are speculations and reports if COVID-19 coronavirus outbreak could cause the cancellation of the Red Bull Grand Prix of the Americas, the only MotoGP round in North America? There are only 15 cases of the virus in the United States, so what's the concern?

If the U.S. GP plans to just go on, I also wonder if the attendance could be affected. Is it possible that the people still want to go to the track where all the race teams and coaches and crews have flown in from East Asia? I strongly hold the opinion that many of that depends on what happens between now and April and how the public perception of the risk of the virus changes in the course of time….Let us wait and watch…!!


Our team at AlhaweeMotors earnestly wishes you all the safety from any sort of virus infections. Nothing is more important than your safety. I would encourage you to visit trusted websites such as the CDC and the World Health Organization. And yes, if there's a bright side to the corona virus, it may be that we get to spend more time at home with those we love. Take care