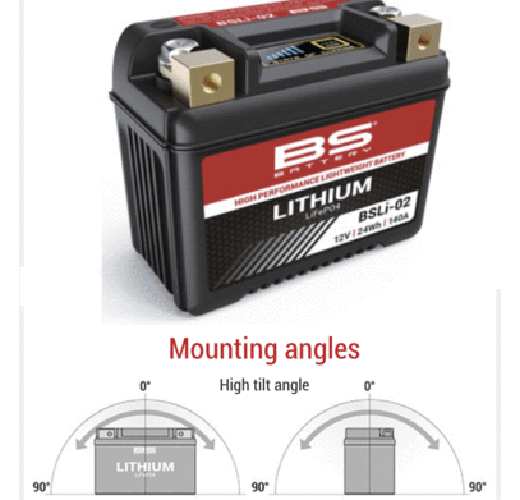 Posted by Jim Koorampoikayil
To all our friends and our profound motorsports enthusiasts who really care about their Battery's quality and durability; well…I'm going to tell you something that'll bring a cheer and enthusiasm in you. BS Batteries; the brand which I'm sure you know about, have announced the launching of its brand new innovative Lithium-ion motorcycle and power-sports battery range, intended and likewise designed for the most demanding riders who look for higher and safer performance, faster acceleration, highly reduced weight and way longer battery life. The very low self-discharge feature of this battery range provides the possibility to start an engine after a very long period of being immobile, even in very cold temperature conditions.
What are so special and exceptional about these range of batteries? Below are the features of the new Lithium-ion batteries from our very own BS Batteries: 
Charging/ Discharging:

Fast charging compared

to other batteries. And a very low Self-Discharge, can start engine after a long period of storage.
Mounting:

Multi-positioning mounting up to 180°C

Mobility:

Light weight, up to 70% lighter than comparable lead acid batteries and others.

Sealing:

Waterproof design, silicon sealant for excellent sealing performance

Go Green:

Very safe and environmental friendly, no acid, no leakage risk, no heavy metal, no toxic

Resistance:

Heat temperature resistance up to 230°C

On the Go:

Ready to use; just plug & play; and you are on

Performance:

Robust brass terminals for enhanced electrical and mechanical performance, Impressive cold cranking performance
Features at a glance:


| | | | | | |
| --- | --- | --- | --- | --- | --- |
| Battery type | Voltage | Length (mm) | Width (mm) | Height (mm) | Weight (g) |
| Lithium | 12V | 107 | 56 | 85 | 550 |
Replacements:



Specifications:

Features/ Characteristics:


Certifications:

"The best part of this story is that the BSLi-02 Lithium battery has been successfully tested and approved by YME (Yamaha Motor Europe) for OE battery fitment replacement"

The features and performances of BSLi-02 Lithium battery make it a new yardstick in Lithium batteries for the various off-road application
Our team at AlhaweeMotors are doing every possible bit within our capacity to assure that our inner-circle customers are well-aware, well-educated about the technologies, intricacies of motorsports market and OEMs (Original Equipment Manufacturer). OEMs are typically manufacturers who resell another company's product under their own name and branding, and we are not just another one of them but it's very unique and of a genuine kind.


We encourage you to please write to us, engage with us to know more about this battery, its specifications, replacements, discharging graphs, Certifications etc. Please feel free to post your comments or write to us if you have any queries.
More: Ageing Mechanism, Safety Mechanism in Lithium-ion Battery
Ageing mechanism in Lithium-ion battery
The rechargeable lithium-ion battery has been widely used in mobile communication and portable instruments due to its many advantages, such as high volumetric and gravimetric energy density and very low self-discharge rate. In addition, it is most favorable choice as the power source for (hybrid) electric vehicles and stationary energy storage. For these applications in durable equipment, the long-term cycling and storage behavior becomes of increasing interest. In this paper, the mechanisms of lithium-ion battery ageing are reviewed and evaluated.
Safety mechanisms in lithium-ion batteries
with increasing use of lithium-ion power packs, reports of occasional incidents of severely debilitating and sometimes fatal tragedies appear in the news. This review analyzes possible scenarios that trigger such hazards before proceeding to discuss safety mechanisms such as pressure release valves, one-shot fuses, reversible and irreversible positive temperature coefficient elements, shutdown separators, chemical shuttles, non-flammable electrolytes and coatings.

Well friends, I'm coming up with this very informative article next, to be published on "Your Machine's Battery Quality and Durability". This article would definitely play a very important role in crafting and polishing your attitude towards how you treat your vehicle's battery. Hence…Please do subscribe and tune in for more. Keep racing (استمر في السباق), Race safe with God (سباق آمن مع الله)